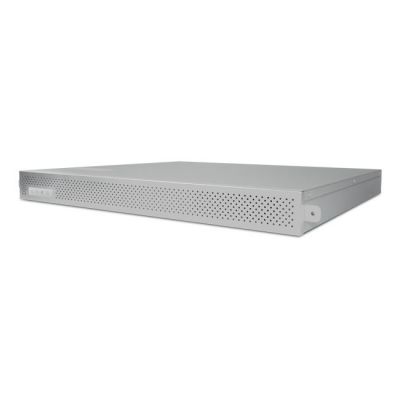 Accusys SW16-G3 PCIe Switch - Final Sale/No Returns
by Accusys MFG# ACCU-SW16-G3
Accusys SW16-G3 PCIe Switch
Grow with Your Business, Scalability Made Simple
Powerful
The SW16-G3 is Accusys' third generation PCIe switch. The newest addition to the world's first and only PCIe SAN switch product line features PCIe 3.0 technology and includes 16 ports (12 client ports, 4 storage ports) enabling optimized scalability and large group collaborative workflows. With total performance reaching 10,000 MB/s and a storage capacity of up to 3,584 TB, the SW16-G3 is an essential for large workgroups in the rich media industry. 
Large Workgroups
Collaboration is key with large projects and gut-wrenching time constraints. With the Primary-Secondary feature, users can combine two SW16-G3 switches, each offering 12 ports, to reach up to 24 clients. This translates optimized workflows and expedited projects. 
10000 MB/s Higher Bandwidth, Higher Performance
Double the capabilities of its predecessor, PCIe 3.0 technology offers performance speeds of up to 10,000 MB/s. The SW16-G3 incorporates PCIe 3.0 technology with powerful hardware to empower uses with a robust storage solution that expedites heavy workloads. 
Universal Compatibility
When your small workgroup increases with your growing business, you need to stay connected. The SW16-G3 is equipped with 12 client ports allowing for large workgroup collaboration while maintaining high performance. The SW16-G3 offers universal compatibility with devices utilizing MAC, Windows, Linux operating systems. 
Massive Capacity
With four storage ports allocated for ExaSAN storage systems, the SW16-G3 enables simple scalability. By contacting four A16S3-PS each with three 16-bay JBOD units, users can reach a storage capacity of 3,584 TB (using 14TB HDD).
Technical Specifications 
Hardware
SW16-G3 Host and Disk Connections
Supports 12 hosts with QSFP connector
Supports 4 storages with QSFP connector Peripheral Connections
1 Gigabit Ethernet LAN Port for remote management
Console port (phone jack) for RD debug usage
Processor and Cache memory
Intel Atom processor
DDR3-1333 MHz 2GB memory
Management
Web-Based GUI, RAIDGuard X supports remote management andRAIDconfiguration
LED indicator in front panel to show the access, fan, Network and power status
LED indicator in each connector to show each access status
Buzzer for system abnormal condition alarm
Software & Environment
Supported SAN Management software
MetaSAN, Xsan,BWFS etc...
Supported OS
Windows 7, 8, 10, 2008 and 2012 (32/64bit)
Linux:Red Hat, SUSE, Fedora, CentOS etc.
MAC: OS X 10.5, 10.6, 10.7, 10.8, 10.9, 10.10, 10.11 and 10.12
Electrical and Operating Requirement
Redundant Power supply: 220W
Humidity: 5% ~ 85% Non-condensing
Operation Temperature: 0°C~40°C
Sound pressure level when operating :45dB
Certification: RoHS, UL, CE, FCC, C-Tick, BSMI
Dimensions: L : 430 mm x W : 450 mm x H : 43mm
Weight: 6.3 Kg