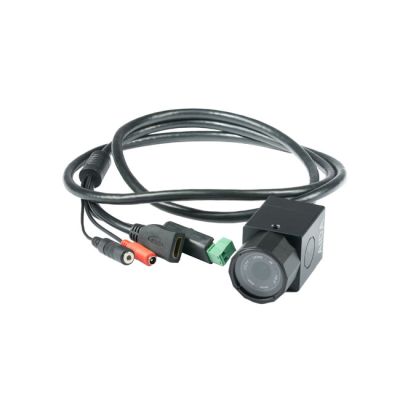 AIDA Imaging FHD HDMI POV Weatherproof Camera with TRS Stereo Audio Input
by AIDA Imaging MFG# AIDA-HD-100A-IP67
AIDA Imaging FHD HDMI POV Weatherproof Camera with TRS Stereo Audio Input
Simple and Affordable Content Creation, Wherever You Are!
As we know, the HD-100A is AIDA's staple camera. So why not take that amazing recipe of simplicity, affordability, versatility and make it adventurous! The HD-100A-IP67 re-introduces our HD-100A in a hardened, weatherproof shell that protects it from dust, moisture, and the environment for your streaming adventures!The HD-100A-IP67 takes your streaming ideas outdoor with full on protection of the elements. So go on out and stream your passion outdoors with our world renowned solution!
 
Extroverted Cabling, Introverted Connections
The HD-100A-IP67's 6ft/2M weatherproof cabling goes the distance to safely get its HDMI, 3.5MM Jack, Power, and control away from harms way!
 
Synced TRS Stereo Audio over HDMI
The HD-100A-IP67 still grants you the access of TRS Stereo Audio over the 3.5mm jack, giving your outdoor video perfectly synced audio every time.
 
HD-100A-IP67 Quick Specs:
HDMI: HDMI 1.3a output
FHD Streaming
1080p, 1080i, 720p
4mm CS Lens: Standard AIDA POV Lens
6ft/2M WP Cable
IP67 Rated
 
Same Adjustability, Less Worrying
Coming packed with the standard AIDA's standard features, auto exposure, white balance, and more can be controlled via the dongle, or RS485 connections on the tail end of the camera.
 
Weatherproof Cap = Safety First
The HD-100A-IP67's weatherproof cap comes with a IP67 rating, allowing the camera head to survive in almost any environment, even submersion up to 3ft / 1M for 30 minutes! 
 
The Lens Is Still Adjustable?!
Sometimes these POV cameras need something a little closer than normal, so with the ability to change the lens (that is acceptable to the cap) gives you more freedom to get the shot that you need!
 
1/4"-20 Where You Need It Most
The HD-100A-IP67 comes packed with two 1/4″-20 mounts, located precisely on the top and bottom of the camera. Its never been easier mounting the camera!