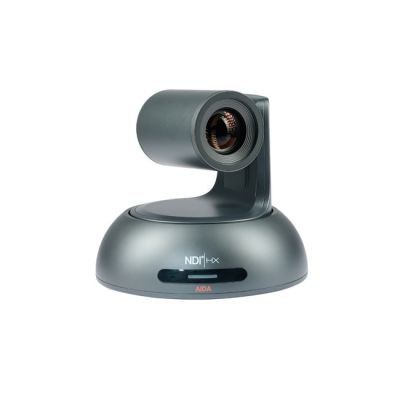 AIDA Imaging NDI3®|HX3 PTZ Camera (Black)
by AIDA Imaging MFG# AIDA-PTZ-NDI3-X20B
AIDA Imaging NDI3®|HX3 PTZ Camera (Black)
Witness the power of NDI®|HX3, AIDA style
NDI®|HX is one of the most prominent, rising technologies seen in broadcast workflows all over the world. Through the recent months, advancement on the HX protocol has lead to Newtek's beloved protocol getting a serious upgrade.. NDI®|HX3. HX3 introduces a faster, visually lossless alternative that rivals even Full-Bandwidth NDI® without the hardware. That means less latency, better quality, and more savings on any workflow!
Taking our popular X20 solution, we tweaked our formula to deliver the best NDI®|HX3 experience one can have, with less latency, more visual quality, and most importantly a price point that won't break the bank. Trust us, this camera will change the NDI®|HX game for good.
HX3 FOREVER!
The PTZ-NDI3-X20 is pushed to its limits with HX3 by allowing the NDI® stream to run at up to 60mb/s (4x the bitrate of NDI®|HX.) This of course leads to better visual quality, and lowered latency all around! 
No-Hassle Integration
As always, the PTZ-NDI3-X20 comes pre-loaded with its NDI|HX3 license key. Less time typing IlIllI, and more time streaming your dreams!
PTZ-NDI3-X20 Quick Specs
NDI|HX3, SDI HDMI
NDI®|HX3 Camera
FHD Streaming: 1080p, 1080i and 720p
20x Optical Zoom
Focal Length: 5.2~98mm
FOV: 57° (wide) ~ 3.3° (tele)
Line in Audio
Synced NDI|HX Streaming
Tally Light Integration
The PTZ-NDI3-X20 comes with the same Tally found on our other PTZ's, making it discreet and easy for talents to follow!
(Un)limited Ways to Control
The PTZ comes standard with a physical remote, web UI control, as well as SONY VISCA, VISCA OVER IP, and NDI control. You will never run out of ways to move this camera!
Get Up Close and Personal
The PTZ comes loaded with a 20x Optical zoom, which allows for a wide FOV of 60°, to a zoomed in 4°. No quality lost here!
The PTZ That Keeps Giving
This PTZ is capable of running NDI|HX3, SDI, IP and HDMI streams simultaneously, making this the ultimate streaming machine.
PoE+ Capable
With the ability to run power, control and video over one ethernet cable, you will never use the wall plug again.
Twice the fun!
The PTZ-NDI3-X20 comes in either black or white, matching any aesthetic seamlessly!