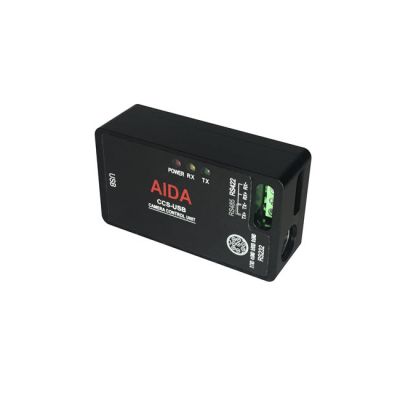 AIDA Imaging VISCA Camera Control Unit & Software
by AIDA Imaging MFG# AIDA-CCS-USB
AIDA Imaging VISCA Camera Control Unit & Software
The CCS-USB camera control unit and software for PC features multi serial port control, making this the go-to software for all your camera control needs. Simply connect the control unit to your computer via USB, then connect your camera to its onboard RS232, RS485 or RS422 and the software will automatically set up your COM ports. Control up to 7 primary cameras utilizing advanced SONY VISCA™ protocol and up to 255 cameras utilizing PELCO™ protocol. Compatible with Windows and Mac OSX™ operating systems. Includes an RS232 to Cross-RJ45 converter for longer communication relays when you need it most. The camera control unit is designed for mobility and versatility, its compact in size and rugged design truly make the CCS-USB small but mighty and the one CCS to control them all. 
MAIN FEATURES
SONY VISCA Compatible and work with most of major VISCA protocol products.
Support PELCO Pan / Tilt / Zoom / Focus protocol.
Control up to 7 VISCA control cameras and 255 third party control cameras.
User friendly software interface.
Support RS-232, RS-485, RS-422.
USB interface for easy installation.
Windows and MAC OSX compatible.
Compact and rugged design.