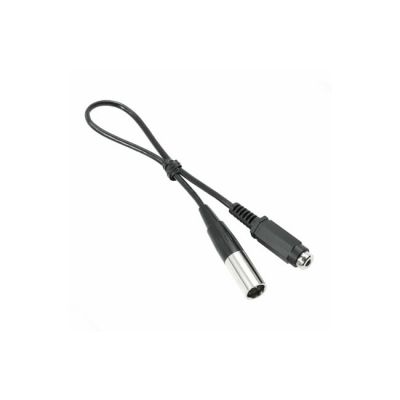 Azden 3.5mm Female TRS to Mini-XLR Male Cable
by Azden MFG# AZDEN-MX-M2
Azden 3.5mm Female TRS to Mini-XLR Male Cable
3.5 mm TRS Female to 3-pin Mini XLR Male.
Adapts unbalanced mini-plug audio output to balanced Mini XLR input.
Connect your Azden microphone or wireless receiver to the pro-level Mini XLR audio input available on some small format cameras, such as the Blackmagic Pocket Cinema Camera 4K or 6K, with this female 3.5 mm TRS to male 3-pin Mini XLR adapter cable. Designed to adapt any unbalanced "dual-mono" mini-plug microphone output to a balanced Mini XLR input. The MX-M2 is especially useful for any microphone or wireless receiver with a fixed 3.5 mm output cable. The MX-M2 is compatible with all Azden single-channel wireless receivers and all non-stereo, self-powered microphones.
This cable is not suitable for true stereo outputs with distinct left & right audio signals.
Compatible with single-channel Azden wireless receivers, including PRO-XR, PRO-XRe, PRO-XD, and WLX-PRO+i.
Compatible with non-stereo Azden self-powered video microphone, such as SGM-990+i, SMX-15, SMX-30 and SMX-30V (when in mono mode).
Not compatible with lavalier microphones that require plug-in power.
Cable Length: 13.25″(337 mm)
Overall Length: 14.50″(369 mm)
Connectors: 3.5 mm TRS female phono jack / 3-pin male Mini XLR