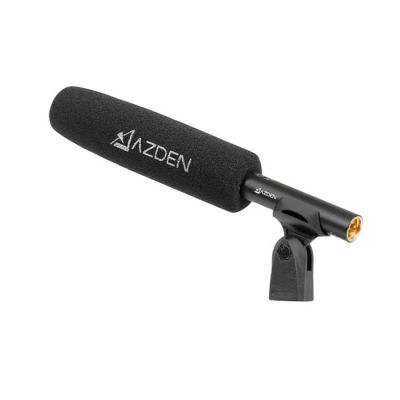 Azden Professional Hypercardioid Shotgun Microphone
by Azden MFG# AZDEN-SGM-250H
Azden Professional Hypercardioid Shotgun Microphone
AFFORDABLE AND PROFESSIONAL HYPERCARDIOID SHOTGUN MICROPHONE
HIGHLIGHTED FEATURES
Highly-focused & directional pickup
High-sensitivity mic element
Low noise and high signal-to-noise ratio
Wide frequency response
Switchable low-cut filter @ 75 Hz
Powered by 48V phantom
All metal case for resistance to RF and durability
Handcrafted in Japan
10 year warranty with online registration 
PICKUP THE SOUND YOU WANT
The SGM-250H is ideal for boom-pole applications, and a great tool for recording sound in an environment with high levels of background noise.
With a focused hypercardioid pickup pattern, the SGM-250H can help you optimize your recordings by producing a better signal-to-noise ratio and thereby helping you capture more articulate, intelligible dialogue.
MITIGATE NOISE WITH LOW-CUT FILTER
An extra tool for combatting low-frequency noise, when engaged the switchable low-cut filter will roll-off frequency response below 75 Hz at the rate of 3 dB per octave.  
PROUDLY HANDCRAFTED IN JAPAN
Azden backs this craftsmanship with an incredible 10 Year Warranty, so you may shop with confidence that this microphone is built to last for years to come.
AVAILABLE CUSTOM FURRY WINDSHIELD
Azden provides two custom options for wind protection on the SGM-250H. The SWS-100 has a dense foam core and a furry outer lining for maximum buffering, while the SWS-H (coming soon) is a custom furry cover that slips over the existing foam windshield for a more affordable option.
Part of Azden's Ni-Go-Maru Series
Affectionately known in Japan as "Ni-Go-Maru" (Japanese for "250"), the Azden 250 Series is a collection of professional XLR shotgun microphones, each designed with a particular video application in mind.
Freq. Response: 20 Hz – 20 kHz
Low-Cut Filter: Selectable @ 75 Hz / 3 dB per Octave
Polar Pattern: Hypercardioid
Dynamic Range: 114 dB
Sensitivity: 35 dB
Impedance:100 Ohms
Max Input SPL: 132 dB SPL (1 kHz @ 1% T.H.D.)
S/N Ratio:76 dB (1 kHz @ 1 Pa)
Power Requirement: 11 – 50 V
PhantomOutput: Gold-plated 3-pin XLR
Dimensions:250 mm x Φ21 mm (9.84″x 0.83″) (L x D)
Weight: 110 g (3.9 oz)
Accessories: mic clip, foam windscreen, carrying pouch