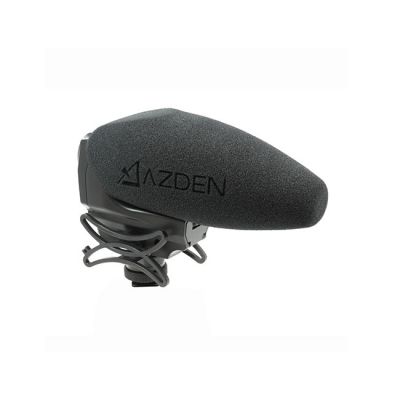 Azden Stereo/Mono Mixable Video Microphone
by Azden MFG# AZDEN-SMX-30V
Azden Stereo/Mono Mixable Video Microphone
Features
Mix audio together from the stereo and mono-shotgun microphones
Or set the mixing dial to 100% stereo or 100% mono
Stepless variable mixing potentiometer
Swivel mount adjusts aim of microphone up to 30º to the left or right
+20dB gain booster alleviates noise produced by low-quality camera preamps
-10dB pad for loud sound environments
Auto power mode turns microphone on/off with camera
Low-cut filter selectable at 60 Hz, 3 dB/octave
Detachable audio output cable
Integrated shock-absorbing shoe-mount with 1/4"-20 thread
10 year warranty with registration
With the SMX-30V, Azden takes their innovation of a switchable stereo/mono microphone to another level by incorporating a mixing dial. The first video microphone of its kind, the SMX-30V lets the user choose from using 100% of the stereo microphone, 100% of the mono-shotgun microphone, or any mix in between. Recording a dialogue scene but want to incorporate some of the environment's ambience? Mix in a little of the stereo microphone. Recording a musical performance but want to tighten up the center stereo image? Mix in some audio from the mono-shotgun microphone. The possibilities are endless! 
A Dual Microphone With Complete Control
The SMX-30V is like having a stereo microphone, a shotgun microphone and an audio mixer all combined into one unit. To achieve this, there are three microphone elements in total: two located at the top, angled at 90º for capturing a realistic stereo image, and one inside a 4.5-inch long interference tube for directional audio capture. Combined with a stepless mixing knob, you have complete control over how much signal from each microphone to send to your camera. 
Swiveling Shock-Mount 
Another unique feature on the SMX-30V is the swiveling shock-mount, which enables rotation of the microphone 30º to the left or right. This is a handy feature any time your sound source is not centered in-frame, allowing you to aim the microphone at your subject, thereby getting the most direct sound possible. In addition, the mount itself is designed to absorb vibrations and isolate the microphone from handling noise. The bottom of the mount allows for attachment to a standard camera cold-shoe slot, or via a ¼"-20 threaded stud. 
Isolating Shock Mount
Made from a virtually unbreakable composite material, the shock mount effectively isolates the microphone from the vibrations created by handling a camera. Designed to mount on top of a camera's cold shoe, a threaded ¼"-20 tap is also available for boompole and accessory bar mounting. 
Improved Battery Life
Battery life in the SMX-30V has been improved over the previous model to last up to 100 hours on a pair of alkaline AA batteries. 
Detachable Output Cable
Audio output via a 3.5 mm mini-jack provides flexibility to connect various third party audio cables. A high-quality, coiled microphone output cable is included with the microphone.
Low-Cut Filter
When engaged, the Low-Cut Filter (or High-Pass Filter) reduces low-frequencies which can be helpful in mitigating low-frequency noise from sources such as HVAC systems, wind or passing cars. 
Auto Power
Setting to AUTO will turn the microphone on and off with your camera automatically, saving you from losing a great take and conserving battery. 
3-Step Gain Control
The 3 step gain control has +20 dB, 0 and -10 dB settings. Adding 20 dB of gain to the microphone output is a great way to overcome noisy mic preamps, or to simply boost quiet audio. Reducing the gain by 10 dB is most useful to protect against distortion in loud environments.
 
SPECIFICATIONSÂ 
| | |
| --- | --- |
| Polar Pattern: | Mono: Super-Cardioid Stereo: Cardioid (90º) |
| Freq Resp: | 40 Hz - 20k Hz |
| Sensitivity: | -38 dB @ 1kHz |
| Dyn Range: | 118 dB |
| S/N Ratio: | 82 dB, 1k Hz@1Pa |
| Max Input Level: | 126 dB SPL (1kHz@ 1% T.H.D.) |
| Max Output Level: | +10.2 dBu |
| Output Imp: | 75 Ω |
| Power Req: | AA batteries x2 |
| Output Conn: | 3.5 mm Stereo mini-jack |
| Power Switch: | Off, Battery, Auto |
| Gain Control: | -10 dB, 0 dB, +20 dB |
| Low-Cut Filter: | 60 Hz, 3 dB/octave |
| Dims: | 47 mm x 111 mm x 154 mm |
| Weight: | 160 g |
| Accessories: | Windscreen, Carrying Pouch, Stereo 3.5 mm Audio Cable |