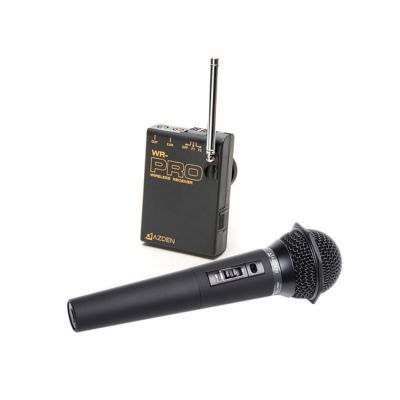 Azden VHF Wireless Mic System with Wireless Handheld Mic
by Azden MFG# AZDEN-WHX-PRO
Azden VHF Wireless Mic System with Wireless Handheld Mic
The WHX-PRO is an easy to use and affordable wireless audio system combining the WM/T-PRO handheld transmitter and WR-PRO camera mount receiver.
The WM/T-PRO is a handheld microphone with a built-in transmitter. It transmits on the standard "PRO" frequencies (169.445MHz and 170.245MHz) and is compatible with all PRO Series receivers. The WM/T-PRO has a standby switch to mute audio and a rubberized coating to reduce handling noise. Runs on a single "AA" battery for up to 10 hours of continuous use.
The WR-PRO is a single channel receiver, but has two selectable operating frequencies to choose from (169.445MHz and 170.245MHz) giving the user an option in case one channel has interference. Comes with camera shoe mount and a 3.5mm mono to stereo microphone output cable.
Features
Single Channel VHF wireless system
WM/T-PRO Handheld microphone/transmitter
WR-PRO Camera Mount Receiver
2 selectable operating frequencies
Connects into DSLR camera's mic input
Operates in the low-interference VHF band
Transmit audio up to 300 feet away
WM/T-PRO
TRANSMISSION FREQUENCY: F1: 169.445MHz; F2: 170.245MHz
ANTENNA: Internal Antenna
MIC UNIT: Uni Dynamic
BATTERY: 1.5V (AA) x 1 (not included)
POWER CONSUMPTION: 100mA
RF OUTPUT: 10mW
IMPEDANCE: 8 k ohms
BATTERY LIFE: 8 to 10 Hours
DIMENSIONS: 62mm (Ø) x 211 mm – (2.4″ x 8.3″)
WEIGHT (including battery): 170g (6.0 oz)
WR-PRO
Reception Frequency: F1: 169.445MHz; F2: 170.245MHz
Receiver type: Double superheterodyne
Sensitivity: 2mV @ S/N of 40dB
Battery: 9V x1 Alkaline (not included)
Power consumption: 25mA
Monitor output: 1V @ 30Ω, Modulation frequency: 1kHz, Deviation: +/-7kHz
Mic output: 8mV w/10kΩ load, Modulation frequency: 1kHz, Deviation: +/-7kHz
Mic output impedance: 300Ω
Dimensions: 86(h) x 60(w) x 21.5(d) mm (3.3" x 2.4" x 0.85")
Weight w/battery: 128g (4.5oz)