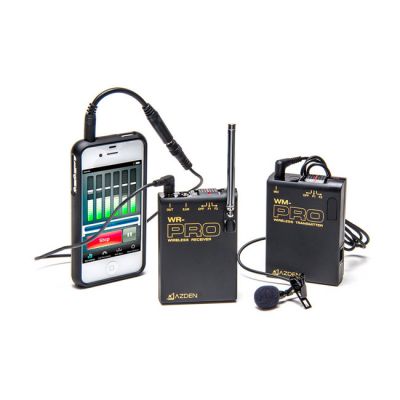 Azden VHF Wireless Microphone System with TRRS Adapter
by Azden MFG# AZDEN-WLX-PRO+I
Azden VHF Wireless Microphone System with TRRS Adapter
Azden's PRO Series wireless microphone systems have been a mainstay amongst entry level video shooters since the 1980s! Still extremely popular to this day because of their ease of use and affordability, the PRO series has undergone a number of evolutions over the years. This most recent update to the line is the addition of an adapter cable to make PRO Series wireless microphones compatible with smartphones, tablets and mobile devices!
Introducing Azden i-Coustics: a sub brand of Azden audio products that work with mobile devices. With the WLX-PRO+i, now there's a wireless lavalier microphone solution for shooting video with your iPhone, Android phone, iPad, Android tablet etc. Still compatible and originally designed for use with DSLR cameras and camcorders (with 3.5mm stereo mic inputs) this kit also includes an adapter cable that allows you to plug the wireless receiver into the headset input of your mobile device.
The WLX-PRO+i wireless microphone system consists of Azden's popular single channel WR-PRO receiver and WL/T-PRO lavalier microphone and body-pack transmitter. The receiver is lightweight and comes fitted with a shoe mount for on-camera mounting. The transmitter is equal in size and weight compared to the receiver, and can be comfortably worn on a belt or just stuffed in your back pocket.
Super simple to use, pairing the transmitter and receiver is a breeze! Just set both units to either F1 or F2. A green light on your receiver means you're linked and ready to go!
Unbeatable in affordability and easy of use, Azden's PRO Series wireless kits have everything you need to start shooting and recording wireless audio with your DSLR camera, camcorder, and now even with your smartphone or tablet!