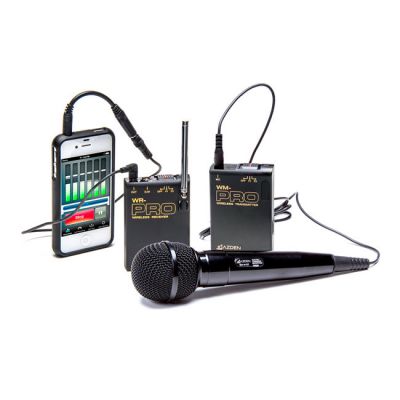 Azden VHF Wireless Microphone System with Wired Handheld
by Azden MFG# AZDEN-WMS-PRO+I
Azden VHF Wireless Microphone System with Wired Handheld
Azden's most popular DSLR audio products are now compatible with Smartphones and Tablets! The WMS-PRO+i includes a new interface cable making it compatible with any mobile device with a TRRS jack. Record great wireless audio while shooting video with your mobile device. Works with most current model iOS and Android devices.
The WMS-PRO+i is an easy to use and affordable wireless audio system combining the WM-PRO body-pack transmitter and WR-PRO camera mount receiver. Both a lavalier microphone and a handheld microphone are included for added flexibility.
The WL/T-PRO combines the WM-PRO body-pack transmitter with the EX-503 electret condenser omni-directional lavalier microphone. This is the standard 2 frequency switchable (169.445MHz and 170.245MHz) body-pack transmitter for all "PRO" series receivers. Uses a single 9V alkaline battery and comes with a belt-clip. The EX-413 handheld plug-in microphone is also included and can be substituted for the lavalier mic when the user prefers.
The WR-PRO is a single channel receiver, but has two selectable operating frequencies to choose from (169.445MHz and 170.245MHz) giving the user an option in case one channel has interference. Comes with camera shoe mount and a hard wired 3.5mm mono microphone output cable.
WM-PRO
TRANSMISSION FREQ: F1: 169.445MHz; F2: 170.245MHz
BATTERY: 9V x 1 (not included)
POWER CONSUMPTION: 30mA
BATTERY LIFE: 8 to 10 Hours
DIMENSIONS: 86 x 60 x 21.5 (mm)
WEIGHT (W/ BATTERY): 98g (3.5oz)
MICROPHONES
EX-503: Omni-directional, electret condenser lapel
EX-413: Omni-directional, electret condenser handheld
WR-PRO
Reception Frequency: F1: 169.445MHz; F2: 170.245MHz
Receiver type: Double superheterodyne
Sensitivity: 2mV @ S/N of 40dB
Battery: 9V x1 Alkaline (not included)
Power consumption: 25mA
Monitor output: 1V @ 30Ω, Modulation frequency: 1kHz, Deviation: +/-7kHz
Mic output: 8mV w/10kΩ load, Modulation frequency: 1kHz, Deviation: +/-7kHz
Mic output impedance: 300Ω
Dimensions: 86(h) x 60(w) x 21.5(d) mm (3.3" x 2.4" x 0.85")
Weight w/battery: 128g (4.5oz)