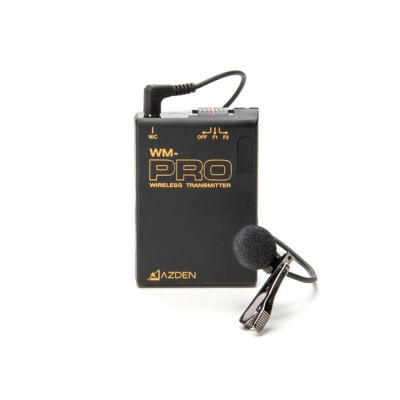 Azden VHF Wireless Transmitter with EX-503 Lapel Microphone
by Azden MFG# AZDEN-WL/T-PRO
Azden VHF Wireless Transmitter with EX-503 Lapel Microphone
The WL/T-PRO combines the WM-PRO body-pack transmitter with the EX-503 electret condenser omni-directional lavalier microphone. This is the standard 2 frequency switchable (169.445MHz and 170.245MHz) body-pack transmitter for all "PRO" series receivers. Uses a single 9V alkaline battery and comes with a belt-clip.
Features
Body-pack transmitter with EX-503 mic
Works with all Azden PRO Series receivers
2 switchable transmission frequencies
9V battery powered
Comes with belt-clip
Transmits up to 300 feet away
WM-PRO Transmitter
TRANSMISSION FREQ: F1: 169.445MHz; F2: 170.245MHz
ANTENNA: Internal Antenna
MIC UNIT: Omni-Directional Electret -Condensor
BATTERY: 9V x 1 (not included)
POWER CONSUMPTION: 30mA
BATTERY LIFE: 8 to 10 Hours
DIMENSIONS: 86 x 60 x 21.5 (mm)
WEIGHT (W/ BATTERY): 98g (3.5oz)
EX-503 Lapel Microphone
Mic Type: Electret Condenser
Frequency Response: 30-18,000 Hz
Directionality: Omni-Directional
Sensitivity: -44dB at 1kHz (0dB=1V/Pa)
Impedance: 2.2kΩ (at 1kHz)
Power Requirement: Plug-in power DC 1-10V
Weight: Approx 0.35 oz.
Connector: TS (Tip Sleeve) right angle 3.5mm mini-plug with 1.3m cable. Detachable windscreen
Features and Benefits: Discreet and lightweight, with included lapel clip and windscreen. Omni-directional element sounds good clipped anywhere near a speaker's voice.