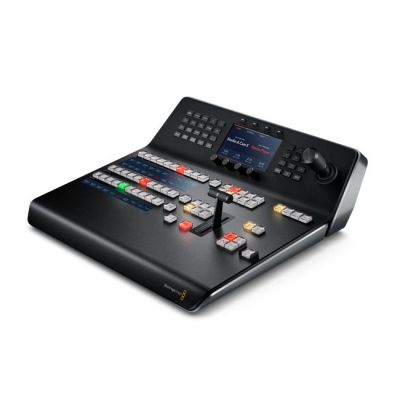 Blackmagic Design ATEM 1 M/E Advanced Panel 10
by Blackmagic Design MFG# BMD-SWPANELADV1ME10
Blackmagic Design ATEM 1 M/E Advanced Panel 10
The World's Most Advanced Live Production switchers!
Create stunning multi camera live production with the world's most advanced production switchers! ATEM switches between SD, HD or Ultra HD video standards so you can form exciting live production with a wide range of video sources such as cameras, disk recorders and slide shows or animation from computers. You get powerful features such as chroma key, creative transitions, media pool, downstream keyers, audio mixer, multi view and more! The more advanced models include features such as up to 20 SDI inputs, SuperSource multi-layer engine, full motion DVE, stinger transitions, larger media pool with full motion clips and up to an incredible 6 auxiliary outputs!
Combine the elegance of modern design with the power of broadcast production
The ATEM 1 M/E Advanced Panel is an elegantly designed professional hardware control panel for all ATEM switchers. It combines modern design with the latest broadcast technology for faster workflows. The new design features a built in LCD and high quality curved buttons that help reduce incorrect key presses. The buttons also have color backlighting to help you quickly recognize important keys. You also get a professional joystick for DVE and camera adjustments, smooth weighted t‑bar fader and much more. The buttons feature dynamic displays that allow full customization of the labels as well as custom colors. The shift buttons allow you to double up the number of inputs by selecting a second set of shifted source buttons so you can control up to 20 inputs. The compact size and durable design of the ATEM 1 M/E Advanced Panel fits in a standard equipment rack, making it perfect for shelf mounting in broadcast trucks, mobile racks and fly away kits.
Creative features with advanced technology
Take your live production beyond broadcast quality! ATEM live production switchers have all the features you need for the most innovative live concerts, sporting events, theater productions, conferences and more! When you're doing live events with super large high resolution screens, then simply switch your ATEM live production switcher to Ultra HD for incredible quality. Many live events now use massive high resolution LED screens and projectors and now you can drive those screens in full resolution!
Elegant machined metal design in a super compact size!
ATEM live production switchers feature an elegant machined aluminum front panel with dedicated buttons to let you switch auxiliary outputs. You can use the built in video screen to monitor auxiliary outputs or as technical monitoring to help during set up! You get the highest quality video and audio connections that switch virtually all SD, 720p HD, 1080i HD, 1080p HD and Ultra HD formats, plus built in multi voltage power supplies so you can take your switcher anywhere in the world!
Get innovative software control or choose a hardware panel
ATEM live production switchers have the widest range of control options! You get full switcher control from any laptop or desktop computer with the included ATEM software control panel for both Mac and Windows. For demanding live production environments you can add a hardware based panel such as the ATEM 1 M/E Advanced Panel or the ATEM 2 M/E Broadcast Panel, which feature the highest quality buttons, knobs and faders for even faster switching! You also get an SDK for custom control. Only ATEM gives you such a wide range of control options!