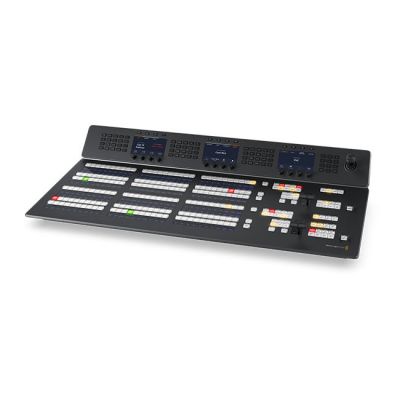 Blackmagic Design ATEM 2 M/E Advanced Panel 30
by Blackmagic Design MFG# BMD-SWPANELADV2ME30
Blackmagic Design ATEM 2 M/E Advanced Panel 30
For the ultimate in professional control you can add an optional ATEM Advanced Panel! Although you can use ATEM Constellation with the software control panel, using an ATEM Advanced Panel is so much faster! The ATEM Advanced Panels opens up the power of your ATEM Constellation because it gives you an enormous amount of control, allowing you to setup more complex effects. It's also a nicer way to work because you have physical broadcast quality buttons, knobs and a t‑bar fader so you can access all features in the switcher, all at the same time. Imagine using the 4 M/E model to access all M/Es simultaneously, with an input button for every single SDI source on the ATEM Constellation switcher! 
The 2 M/E model features 2 M/E rows with 30 input buttons and 3 independent system control LCDs for each row. Plus each row can control up to 4 M/Es in larger switchers. Both rows and all input buttons include LCDs for custom labeling. Each row also includes an independent select bus!
Connections
Ethernet
4 x 10/100/1000 BASE-T with loop output
for additional control panels or computers.
Software Updates
1 x USB-C for firmware updates.
Product Specifics
Number of Mix Effects Rows
2
Direct Cross Points
30
Shifted Cross Points
60
Crosspoint Button Type
Tri-Color LED
Crosspoint Label
6 rows 24 character LCD
On-Air indicator
12
Power Status Indicators
None
DSK Transition Selectors
4 x Auto, Cut, Tie/Preview
Preview Transition
2
Transition Rate Displays
Via main menu
LCD Menu Displays
3
Menu Control
3 x 20 buttons
Dedicated Macro Buttons
2 x 30
Transport Control Buttons
8
Destination Bus
2
Source Select Bus
2
Fader Bar
2
3 Axis Joystick
1
Numeric Keypad
1
Power Requirements
Input Voltage
2 x Internal 100 - 240V AC.
Redundant Power
Yes
Power Usage
120W
Environmental Specifications
Operating Temperature
0° to 40° C (32° to 104° F)
Storage Temperature
-20° to 60° C (-4° to 140° F)
Relative Humidity
Up to 95%
What's Included
ATEM 2 M/E Advanced Panel 30
Welcome wallet with QR code for software download