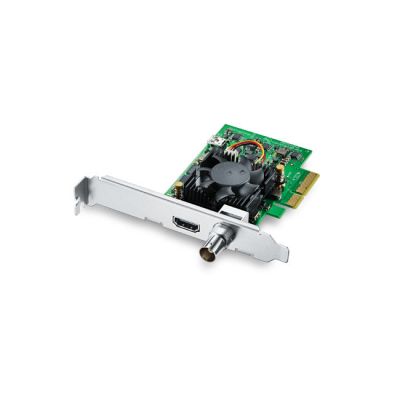 Blackmagic Design DeckLink Mini Monitor 4K
by Blackmagic Design MFG# BMD-BDLKMINIMON4K
Blackmagic DeckLink Mini Monitor 4K
DeckLink Mini Monitor 4K is a low profile PCIe playback card, featuring 6G-SDI and the latest HDMI 2.0a connections so you can monitor all formats up to 2160p30 from your computer! The SDI and HDMI outputs let you connect to any television or monitor and automatically detect and switch between all video formats. You even get high dynamic range playback and metadata over HDMI, along with support for Rec. 2020 color space. You can even develop your own custom playback solutions using the Blackmagic Desktop Video SDK for Mac OS X, Windows and Linux! Includes two PCIe shields for both full height and low profile slots.
Connections
SDI Video Output
1 x 10 bit SD/HD/Ultra HD switchable.
SDI Audio Output
16 channels embedded in SD, HD, Ultra HD.
HDMI Video Output
1 x HDMI 2.0a connector.
HDMI Audio Output
8 Channels embedded in SD, HD, Ultra HD.
Computer Interface
Gen 2 PCIe Express 4 lane, compatible with 4, 8 and 16 lane PCIe slots.
Codecs
Supports: AVC-Intra, AVCHD, Canon XF MPEG2, Digital SLR, DV-NTSC, DV-PAL, DVCPRO50, DVCPROHD, DPX, HDV, XDCAM EX, XDCAM HD, XDCAM HD422, Apple ProRes 4444, Apple ProRes 422 HQ, Apple ProRes 422, Apple ProRes LT, Apple ProRes 422 Proxy, Uncompressed 8-bit 4:2:2, Uncompressed 10-bit 4:2:2.
Video Standards
SD Format Support
525i59.94 NTSC, 625i50 PAL
HD Format Support
720p50, 720p59.94, 720p60
1080p23.98, 1080p24, 1080p25, 1080p29.97, 1080p30, 1080p50, 1080p59.94, 1080p60
1080PsF23.98, 1080PsF24, 1080PsF25, 1080PsF29.97, 1080PsF30
1080i50, 1080i59.94, 1080i60
Ultra HD Format Support
2160p23.98, 2160p24, 2160p25, 2160p29.97, 2160p30
4K DCI Format Support
4K DCI 23.98p, 4K DCI 24p, 4K DCI 25p
SDI Compliance
SMPTE 259M and 292M.
Audio Sampling
Television standard sample rate of
48 kHz and 24 bit.
Video Sampling
4:2:2
Color Precision
10-bit
Color Space
REC 601, REC 709, REC 2020
HDMI Configuration
HDMI automatically configures to connected display.
HDMI Resolution
Pixel for pixel HD resolution input to connected device.
HDMI Color Precision
10-bit
Multiple Rate support
SDI and HDMI are switchable between standard definitlon and high definition.