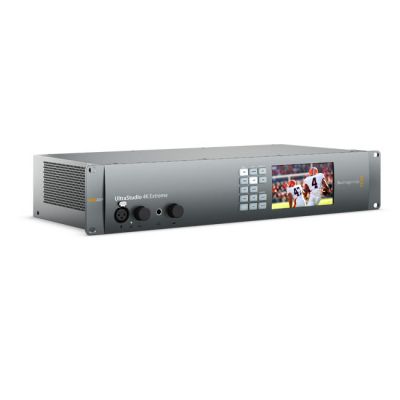 Blackmagic Design UltraStudio 4K Extreme 3
by Blackmagic Design MFG# BMD-BDLKULSR4KEXTR/3
Blackmagic UltraStudio 4K Extreme 3
When you need the ultimate capture and playback solution then UltraStudio 4K Extreme is the perfect choice as it's the most powerful video capture and playback product available. It features the latest, most advanced 12G-SDI and HDMI 2.0 connections for working with high frame rate 60 frames per second, deep 12-bit color images at massive 4K resolutions! The built in hardware encoder can convert video in realtime to H.265, which is the distribution format for Ultra HD. It also includes a wider range of analog and digital connections than any other UltraStudio model so it can be used with virtually any camera, deck, router or display.
For even higher performance, the UltraStudio 4K Extreme 3 model has all the same powerful features of UltraStudio 4K Extreme, but also features the latest high speed Thunderbolt 3 connection for transfer speeds of up to 40 Gb/s over a single cable !
Built In Hardware Video Encoding
The UltraStudio 4K Extreme models feature a built in multi format hardware encoder that lets you capture to H.265. H.265 delivers amazing quality and is the compression standard for distributing Ultra HD content online. You can also use H.265 compression for SD and HD video giving you smaller files at higher quality than other compression formats. The built-in hardware encoder is designed to be upgradable so you get a future proof solution that can add new formats via software updates as they become available.
World's Highest Quality Connections
With UltraStudio you can connect to virtually any video device, including cameras, monitors and broadcast decks for frame accurate editing and recording!
UltraStudio Mini models are ideal when space is tight and you require only capture or playback. UltraStudio Mini Recorder features 1.5G-SDI and HDMI input and UltraStudio Mini Monitor features 1.5G-SDI and HDMI outputs.
UltraStudio Express has built in 1.5G-SDI and HDMI connections and includes consumer RCA and professional BNC/XLR breakout cables for analog component/S-Video and composite, analog audio, genlock, AES/EBU audio, RS-422 deck control and more.
Unmatched Quality
Amazing 4K resolutions in compressed or uncompressed
UltraStudio 4K supports popular compressed video formats such as ProRes and DNxHD as well as 10-bit uncompressed video, so you're not locked into a single file format. When working with uncompressed video all captured images are a perfect pixel-for-pixel clone of the source without any quality loss, so you have the confidence you're working at the absolute highest quality possible. Get the sharpest keying with green screens, cleanest compositions, superior color correction and more! Ultra HD 4K has 4 times the resolution of 1080HD for amazing looking images!
Attractive Design
Elegant styling and exceptional durability
UltraStudio 4K's elegant front panel has an integrated color LCD and fast to use video and audio input buttons, all with built in video and audio connections using standard BNC, HDMI and XLR connectors. UltraStudio Express is machined from a solid block of aluminum to provide fantastic strength and portability. For flexibility the design includes breakout cables with professional BNC and XLR connections or consumer RCA connections. UltraStudio Mini models fit into the palm of your hand and feature SDI and HDMI connections at one end and a Thunderbolt connection at the other!