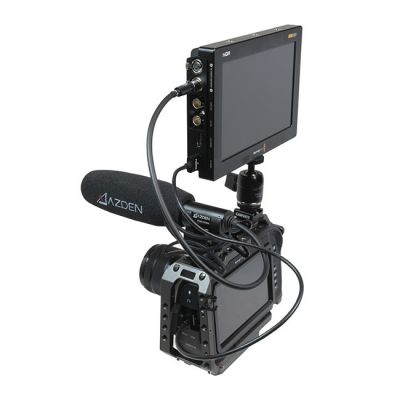 Blackmagic Design Video Assist 7'' 12G HDR & Azden Professional Compact Cine Mic with Mini-XLR Output Bundle
by Blackmagic Design MFG# BMD-7VIDEOASSIST12G+AZDEN-SGM250MX
Blackmagic Design Video Assist 7'' 12G HDR & Azden Professional Compact Cine Mic with Mini-XLR Output Bundle
Pair your professional, high-quality video capture capabilities with an on-par audio solution. The SGM-250MX Professional Compact Cine Mic is a simple yet complete microphone solution that is perfect for the 7" Video Assist 12G. With a compact size of just 6 inches, the SGM-250MX is easily incorporated into a video rig, and its attached, high-durability output cable with Mini XLR connector allows you to plug directly into the Video Assist's professional-quality XLR mic inputs, without the need for additional cables or adapters. The SGM-250MX gets all the power it needs via phantom power provided by the Video Assist. The microphone's highly-directional sound pickup performance lets you focus on your subject, rejecting side-noise for maximum dialogue intelligibility. A wide frequency response with a flat curve captures natural-sounding audio without artificially boosted highs or lows.
---
Blackmagic Design Video Assist 7'' 12G HDR
Blackmagic Video Assist 7" 12G HDR adds professional monitoring and recording to any SDI or HDMI camera in all HD, Ultra HD, 2K and 4K DCI formats! The super bright 2500nit 7 inch HDR monitor supports 3D LUTs and features professional scopes along with powerful focus assist and exposure tools that help you accurately set focus, exposure and frame shots. Dual built in SD card recorders save files from any camera in 10-bit 4:2:2 ProRes or DNx formats. You also get two mini XLR connections with 48V of phantom power and a noise floor of -128dBV for high quality, crystal clear audio recording. Plus, you can start editing immediately because you don't have to convert the files!
Azden Professional Compact Cine Mic with Mini-XLR Output
The SGM-250MX is a short length, condenser shotgun microphone that is ideal for mounting on compact digital cinema cameras. Measuring a mere 6 inches in length, the SGM-250MX can easily stay out of the way. Integrated in the microphone's design is a hardwired, 13-inch cable with a Mini XLR connector, specially made for cinema cameras that use the smaller Mini XLR input, such as the Blackmagic Pocket Cinema Camera 4K. The microphone's highly sensitive, condenser element is powered by standard 48 V phantom power, which most XLR (Mini included) microphone inputs can provide.
The SGM-250MX includes Azden's SMH-X shock mount which mounts to standard size camera shoe slots, as well as ¼"- 20 threaded mounts and tripods. Also included are diameter expander sheets for universal compatibility with ring-clamp style microphone mounts.
Legendary Natural Sound
The SGM-250 microphone series has become notable in the industry for its natural, professional sound. Specifically tuned to preserve the natural qualities of a speaking subject. While other manufactures hype-up the bass response on their microphones, making the audio sound muddy, or over-accentuate high mids, making dialogue tracks sound harsh, you can expect the SGM-250MX to accurately record the sound of your scene.
Not Just A Reference Microphone
You can rely on the SGM-250MX for great reference audio, but it's capable of more than that. Its low noise, and wide frequency response performance means it can capture audio good enough for the final cut. Whether you run and gun, mount to a pistol grip or a boom pole, the SGM-250MX can be your go-to mic for great dialogue capture.
Product Specs:
Freq. Response: 20 Hz – 20 kHz
Polar Pattern: Super-cardioid
Sensitivity: -33 dB at 1 kHz (0 dB = 1 V/Pa)
Dynamic Range: 112 dB
Impedance: 100 Ω (at 1 kHz)
Max Input SPL: 130 dB SPL (1 kHz at 1% T.H.D.)
S/N Ratio: 76 dB (1 kHz at 1 Pa)
Power Requirement: DC 11-50 V Phantom
Output: 3-pin Mini XLR
Dimensions: 153 mm x φ21 mm (6.02" x φ0.83")Cable: φ5 mm x 330 mm
Weight: 85 g (2.99 oz)
Accessories: Shock mount holder, windscreen, carrying pouch, rubber sheets