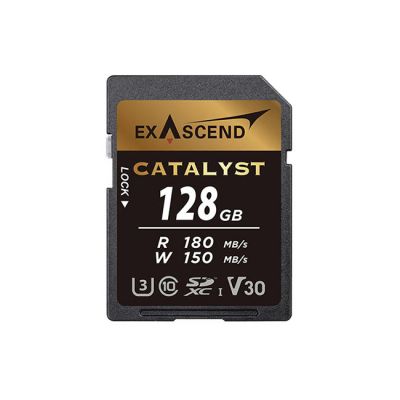 Exascend 128GB Catalyst SDXC, UHS-I, V30 Memory Card
by Exascend MFG# EXA-EX128GSDU1
Exascend 128GB Catalyst SDXC, UHS-I, V30 Memory Card
Exascend's Catalyst and Essential series UHS-I SD cards provide outstanding read and write performance ideal for high-end video recording and professional photography.
With blazing-fast maximum performance, high sustained write performance (V30 video speed class) and environmental hardening, they are the perfect choice for professionals looking for uncompromised performance everywhere.
DESIGNED FOR PRO PHOTOGRAPHY
Our Catalyst and Essential series UHS-I SD cards are designed to excel in demanding professional photography, keeping up with extreme resolutions and rapid bursts with ample performance to spare.
V30 VIDEO SPEED CLASS-RATING
High-end video recording demands high write speeds that can be sustained for longer than short bursts. Our UHS-I SD cards are engineered to exceed these tough requirements and boast the V30 video speed class-rating as a result.
READY FOR ANY ENVIRONMENT
Extreme environments can produce incredible footage – but only if your hardware can keep up. Our UHS-I SD cards are designed to excel in temperatures as cold as -13 °F (-25 °C) and as hot as 185 °F (85 °C), allowing you to tackle even the most challenging shoots with confidence.
Engineered for the real world
WATERPROOF
DUST-RESISTANT
CLIMATE-HARDENED
IMPACT-RESISTANT
X-RAY-SAFE
MAGNETISM-PROOF
Exascend's Catalyst and Essential series SD cards (UHS-I and V30) bring a perfect balance of read and write performance to excel in professional photography – offering seamless shooting and ultra-fast offloading. Their high sustained video recording speed (V30) also make them a perfect choice for recording in demanding video formats.
Series highlights:
Top-of-the-line UHS-I performance
V30-rated, guaranteeing reliable video performance
Designed for professional photography and high-end cinematography
Generous five-year warranty
To learn more about how Exascend's Catalyst and Essential series SD cards can help bring your photography and cinematography to the next level, please do not hesitate to send us a product inquiry and we will get back to you in no time.
Pure performance – everywhere
Our UHS-I range of SD cards is focused on one thing: delivering the highest possible performance for photography professionals and their gear – no matter where or how you shoot.
Purpose-developed hardware and firmware
Our SD cards hardware and firmware are carefully selected, designed and developed to meet the unique requirements in high-end professional photography and cinematography.