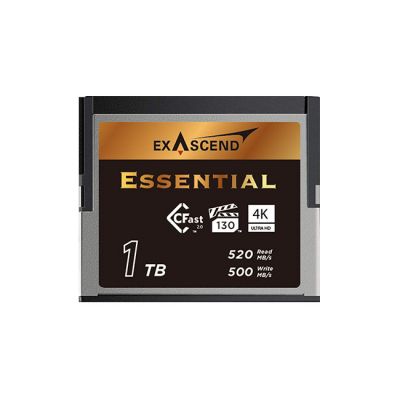 Exascend 1TB Essential Cfast 2.0 Memory Card
by Exascend MFG# EXA-EXSD3X001TB
Exascend 1TB Essential Cfast 2.0 Memory Card
Exascend's CFast cards combine our enterprise storage expertise with patented technologies designed to provide optimal performance in photo and cinematography. The result is a uniquely competent lineup of CFast cards for any application. 
The CFX series is our lineup of high-end CFast cards designed for high-end cinematography and enterprise applications. Featuring high performance, high stability, and top-level reliability, it is an excellent choice for any type of demanding application that leverages the CFast form factor. Â 
CFast Form factor
Enterprise-grade Firmware and hardware
Up to 520 MB/s Sustained read
Up to 500 MB/s Sustained write
ENGINEERED FOR CINEMATOGRAPHY
We designed the CFX series to meet the tough requirements of modern photo and cinematography applications, ensuring stable top performance.
TRUE SATA PERFORMANCE
Our CFast cards push the limits of the SATA-III interface with extreme read and write speeds.
READY FOR ANY ENVIRONMENT
The CFX series is designed to continue operating at its best even in extreme environments.
TUNED TO PERFECTION
 With Exascend's exclusive customization services, our CFast cards can be tuned to bring out the best of your applications.
Series highlights:
Top-level SATA-III performance
Low power consumption
Designed for demanding cinematography applications
Generous five-year warranty
Afterburnerâ"¢
Afterburnerâ"¢ is a performance-enhancing Exascend technology that leverages SLC cache to boost sequential read and write speeds in storage devices with 3D TLC NAND.
AES-256
Exascend's secure storage solutions offer the highest level of data protection with virtually unbreakable AES-256 encryption, guaranteeing unbeatable encryption compliant with federal agencies' stringent data security requirements
Unlimited Over-Provisioning
Exascend offers unlimited over-provisioning (OP), allowing customers to set the ideal level of OP to match their application's exact demands. No artificial limitations. Unlimited flexibility.
Power Tuning
Our unique level of control over hardware, firmware and manufacturing enables us to provide unmatched tuning services. By tuning the performance of our product specifically for your applications, we can achieve the highest possible performance to thermals and performance to power ratios.
SuperCruiseâ"¢
SuperCruise™ is a signature Exascend technology that optimizes write performance for stability – ensuring unbeatable stable write performance even in the most demanding applications. 
...and many more
The CFX series also supports data retention, firmware encryption, RAID ECC, TCG Opal, multi-image firmware backup, and other Exascend technologies.