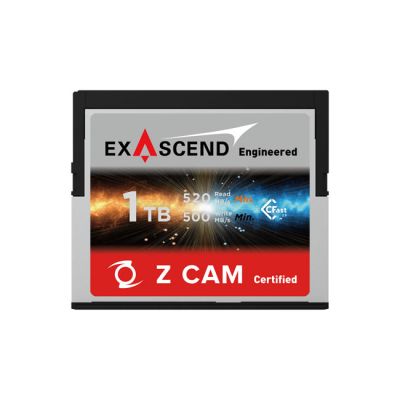 Exascend 1TB ZCAM CFast 2.0 Memory Card
by Exascend MFG# EXA-EXSZ3X001TB
Exascend 1TB ZCAM CFast 2.0 Memory Card
The Official Cast 2.0 for Z CAM 
Storage designed for your Z CAM

Engineered together with Z CAM's team
Certified by Z CAM
No frame drops
Industry-best stability 
Enterprise-Class Excellence 
All the performance and impeccable stability required in enterprise applications in a compact and rugged CFast card. Truly uncompromised cinematography storage. 
Hardened Against The Elements 
No shot is too demanding for Exascend's Z CAM-optomized CFast cards. 
Designed with industrial-grade hardware and firmware, Exascend's CFast cards can take a beating and excel in tough environments. Without a single dropped frame.
 Factory Date Recovery 
The worst thing that can happen to great footage is catastrophic data loss. 
With Exascend's factory data recovery service, their engineers - who designed the hardware and firmware in the first place - put all the tools at their disposal to recover your data. Catastrophe averted. 
Adaptive Thermal Control 
ATC improves reliability and enhances sustained performance and quality of service (QoS) while preventing the CFast card from overheating across thermally challenged operating environments. ATC continuously monitors drive thermals, and regulates drive performance to keep thermal under control, sustaining highest performance while keeping under the thermal envelope.