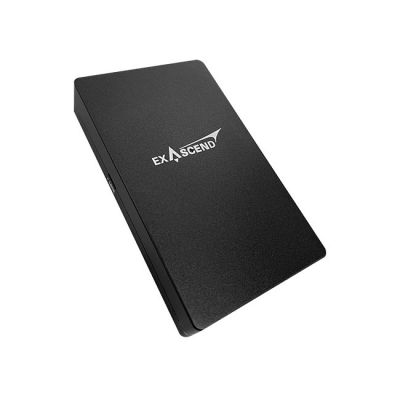 Exascend 20GB Cfexpress 2.0 Type B Card Reader (Black)
by Exascend MFG# EXA-EXCRCFX2
Exascend 20GB Cfexpress 2.0 Type B Card Reader (Black)
Featuring USB 3.2 Gen 2 x2 interface, our CFexpress Type B reader enables ultra-fast offloading of footage at 20 Gbps – offering a smooth transition into post-production. The reader comes with both a USB Type-C and USB Type-C to Type-A cable for broad compatibility and ease of use.
Exascend's CFexpress card reader is the ideal choice for professional filmmakers and cinematographers whose line of work involves shooting with top-quality CFexpress cards. Featuring the USB 3.2 Gen 2 x2 interface, a sturdy aluminum casing and up to 20 Gbps ultra-fast transfer speeds, the reader can fit brilliantly into any professional cinematographer's workflow.
Product highlights:
For use with CFexpress Type B cards
Up to 20 Gbps transfer rates
USB Type-C & Type-C to Type-A cables included
Two-year warranty
 
- USB 3.2 Gen 2 Interface
- CFexpress Type B Reader
- Cinema-grade Performance
- Robust Aluminum Casing
- Up to 20 Gbps Transfer speeds
 
FOR PRO CINEMATOGRAPHERS
The 20 Gbps CFexpress card reader is designed to excel in demanding professional photography, offering lightning-fast offloading of footage via the USB 3.2 Gen 2 x2 interface.
TRUE CFEXPRESS PERFORMANCE
Designed for use with high-end CFexpress Type B cards, the CFexpress card reader delivers incredible read speeds of up to 20 Gbps, unlocking true CFexpress performance in even the most demanding shoots.
SUPERCHARGE YOUR WORKFLOW
Move ultra-high resolution photos and 8K RAW videos from your camera to other devices in a blink of an eye. In a sleek aluminum design, the CFexpress card reader is ideal for on-the-go and can deliver top performance anywhere – in transit or otherwise.