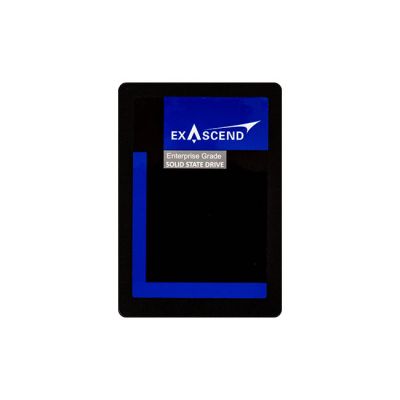 Exascend 3840GB PE3 Series U.2 SSD Drive
by Exascend MFG# EXA-EXPE3U3840GB
Exascend 3840GB PE3 Series U.2 SSD Drive
The PE3 series brings high-level performance to enterprise applications without compromising on stability. Available in a wide variety of configurations and storage capacities, the PE3 series fits any demanding enterprise application.
The PE3 series combines enterprise-grade technologies with high-performance 3D TLC and PCIe 3.0 interface, resulting in a powerful package ready for even the most demanding enterprise applications.
PCIe 3.0 Interface
Enterprise-grade Firmware and hardware
Up to 3,100 MB/s Sustained read
Up to 2,000 MB/s Sustained write
ENTERPRISE HARDWARE
The PE3 series is optimized for enterprise use with advanced flash memory management technology and a wide range of capacities and configurations.
MADE FOR ENTERPRISE WORKLOADS
Featuring consistent I/O latency and high quality of service (QoS), the PE3 series is designed for – and excels under – enterprise workloads.
INCREDIBLE PCIE 3.0 PERFORMANCE
With sustained read and write speeds of up to 3,100 MB/s and 2,000 MB/s respectively, the PE3 delivers enough performance even for the most demanding applications.
TAILORED ACCORDING TO YOUR NEEDS
Exascend's customization services allow the PE3 series to be optimized according to your needs, including optional hardware power loss protection.
Series highlights:
Optimized for heavy enterprise workloads
Incredible PCIe 3.0 performance
Available in high-capacity configurations
Unbeatable stability and reliability
SuperCruiseâ"¢
SuperCruise™ is a signature Exascend technology that optimizes write performance for stability – ensuring unbeatable stable write performance even in the most demanding applications.
Power Tuning
Our unique level of control over hardware, firmware and manufacturing enables us to provide unmatched tuning services. By tuning the performance of our product specifically for your applications, we can achieve the highest possible performance to thermals and performance to power ratios.
Unlimited Over-Provisioning
Exascend offers unlimited over-provisioning (OP), allowing customers to set the ideal level of OP to match their application's exact demands. No artificial limitations. Unlimited flexibility.
True Next-Gen Performance
Our flash storage devices are optimized for ultra-low latency and high QoS – going beyond a focus on raw speed to also ensure that our devices meet the ever-growing demands for low-latency and high-reliability operation.
AES-256
Exascend's secure storage solutions offer the highest level of data protection with virtually unbreakable AES-256 encryption, guaranteeing unbeatable encryption compliant with federal agencies' stringent data security requirements. 
...and many more
The PE3 series also supports data retention, firmware encryption, RAID ECC, multi-image firmware backup, and other Exascend technologies.
Recommended Applications
Industrial
Industrial applications demand unwavering performance in challenging environments.
Enterprise
Enterprise storage requires high performance and unwavering stability under constant loads.
Broadcast & cinema
High-resolution and high-FPS capture requires ultra-fast storage that never drops a single frame.
Transportation
Shocks, vibrations, and extreme temperature fluctuations demand only the best from storage devices.
Telecommunications
Next-generation telecom requires ultra-fast storage devices that excel in any environment.
Edge computing
The edge puts storage devices up against severe environmental challenges and unique demands.
5-year Warranty