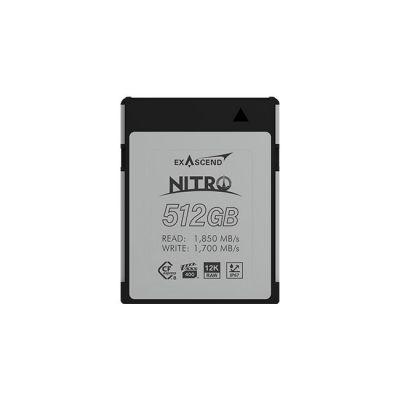 Exascend 512GB Nitro CFexpress Memory Card (Type B)
by Exascend MFG# EXA-EXPC3N512GB
Exascend 512GB Nitro CFexpress Memory Card (Type B)
Exascend Nitro CFexpress is our premier CFexpress card series, featuring extreme VPG400-certified sustained performance, IP67-certified ruggedness and a next-generation CFexpress controller. Engineered with the most discerning cinematographers in mind, Nitro CFexpress delivers enough performance and ruggedness for the toughest shots imaginable. 
1,850MB/sSustained read 
Up to1,700MB/sSustained write 
VPG400-CERTIFIED PERFORMANCE
Exascend Nitro CFexpress is the world's first VPG400-certified CFexpress Type B card, offering higher capacity and performance than existing VPG400-rated CFexpress Type A cards. 
IP67-RATED AGAINST WATER & DUST
Protected against fine particles and water with Exascend's technology and hardened casing, tough environments are no match for the Nitro CFexpress. 
READY FOR NEXT-GEN CFEXPRESS
Equipped with a next-generation CFexpress flash storage controller, Exascend Nitro CFexpress is future-proof and user-upgradeable to the next generation of CFexpress. 
5-YEAR WARRANTY & RECOVERY
Our generous five-year worldwide warranty and industry-best factory data recovery mean that you can rest easy that your footage is in safe hands. 
Certified VPG400 by the using its stringent Video Performance Guarantee Profile 4 (VPG400) qualification, Nitro CFexpress delivers incredible sustained video recording performance in even the most demanding cinema camera systems. Fortified with IP67-certified ruggedness, a next-generation-ready CFexpress controller and ultra-thin graphene heat spreaders, Nitro CFexpress is Exascend's flagship CFexpress series engineered for ultimate performance and reliability. 
Product highlights:
Extreme VPG400-certified sustained performancethat protects against dust and water
Next-generation CFexpress controller
Ultra-thin graphene heat spreaders for thermal efficiency
Automatic RAID recovery (RAID ECC) 
VPG400-certified:
Tested & certified by the CompactFlash® Association.
Smooth recording without dropped frames.
Guaranteed minimum 400 MB/s write speed. 
Adaptive Thermal Control™
Our unique Adaptive Thermal Control™ technology tackles the issue of overheating and thermal throttling that is unavoidable in high-performance PCIe NVMe flash storage devices. 
SuperCruise™
SuperCruise™ is a signature Exascend technology that optimizes write performance for stability – ensuring unbeatable stable write performance even in the most demanding applications.
 IP67-compliance
Thoroughly tested and thoroughly robust, our IP67-rated products protects your data from storage failure caused by dangers such as dust and water. In tough applications, IP67 provides ample protection against the elements. 
Conformal Coating
Conformal coating is a rugged technology that protects the entire Exascend SSD against environmental threats by applying a water and particle-resistant coating to the printed circuit board and all embedded components. 
RAID ECC
RAID ECC is an advanced Exascend technology that combines the power of RAID with NAND flash block granularity, allowing the storage device to rebuild even severely corrupted data. 
...and many more
Nitro CFexpress leverages Exascend's mission critical-grade and enterprise-class technologies to deliver extreme reliability and unwavering performance.