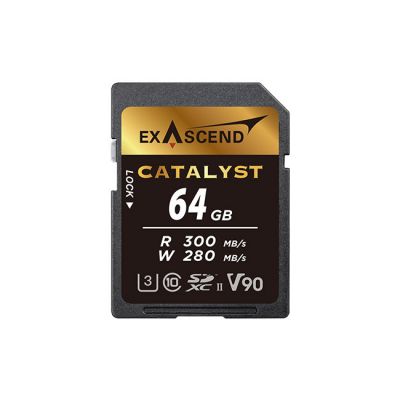 Exascend 64GB Catalyst SDXC, UHS-II, V90 Memory Card
by Exascend MFG# EXA-EX64GSDU2
Exascend 64GB Catalyst SDXC, UHS-II, V90 Memory Card
Exascend's Catalyst series UHS-II SD cards deliver incredible read and write performance that guarantees frictionless shooting and lightning-fast offloading of footage – allowing you to focus on what really matters.Environmentally hardened and featuring the latest in storage technology, these are the perfect SD cards for taking on the next generation of cinematography and photography.
Our UHS-II range of SD cards provide the highest possible performance and are designed exclusively for the unique demands in cinematography and photography. Featuring extreme read and write speeds, environmental hardening and top-level reliability, these cards are an ideal choice for even the most demanding professional.
SDXC SD Card Form factor
Cinema-grade Firmware and hardware
Up to 300 MB/s Maximum read
Up to 280 MB/s Maximum write
CINEMATOGRAPHY-OPTIMIZED
We designed our Exascend UHS-II SD cards to excel in modern cinematography – not dropping a single frame even when shooting with top-of-the-line formats and extreme bitrates.
PUSHING THE LIMITS OF UHS-II
Our UHS-II SD cards push the absolute limits of the UHS-II bus, delivering ample read and write performance for even the most formats.
READY FOR ANY ENVIRONMENT
Extreme environments can produce incredible footage – but only if your hardware can keep up. Our UHS-II Catalyst and Essential SD cards are designed to excel in temperatures as cold as -13 °F (-25 °C) and as hot as 185 °F (85 °C), allowing you to tackle even the most challenging shoots with confidence.
Series highlights:
Extreme UHS-II performance
V90-rated, guaranteeing reliable video performance
Designed for demanding cinematography applications
Generous five-year warranty
Performance above all
Our UHS-II lineup of SD cards is focused on one thing: delivering the highest possible performance for cinematography professionals and their gear – no matter where or how you shoot. 
Purpose-developed hardware and firmware
Our SD cards hardware and firmware are carefully selected, designed and developed to meet the unique requirements in high-end professional cinematography and photography.