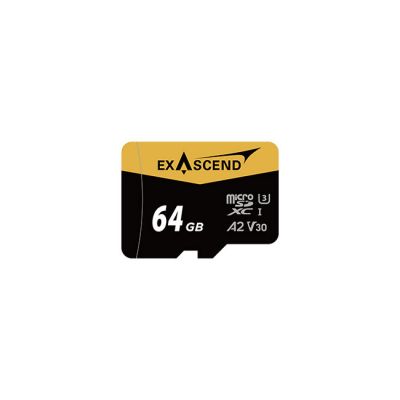 Exascend 64GB V30 UHS-I microSD Card
by Exascend MFG# EXA-EX64GUSDU1
Exascend 64GB V30 UHS-I microSD Card
Exascend's Catalyst microSDXC UHS-I memory card meets U3 and V30 speed ratings, guaranteeing a minimum sustained write speed of 30 MB/s – ideal for 4K RAW video capture and action shots without any risk of frame drops.
Rated A2, the Catalyst microSD enables fast app loading, giving you a seamless mobile experience.
Exascend's Catalyst series microSD cards are designed to take on challenging action and burst photography, supporting the continuous recording of high frame rate videos and high-res images with ample performance to spare.
High-end video capture demands high write speeds that can be sustained for longer than short bursts. Our UHS-I microSD cards are engineered to exceed these tough requirements and boast the V30 video speed class-rating as a result.
Extreme environments can produce incredible footage – but only if your hardware can keep up. Our Catalyst microSD cards are designed to excel in temperatures as cold as -13 °F (-25 °C) and as hot as 185 °F (85 °C), allowing you to tackle even the most challenging shoots with confidence.
Exascend's Catalyst series microSDXC cards (V30) max out the absolute potential of the UHS-I interface, offering stunning read speeds up to 175 MB/s and write speeds up to 150 MB/s, which translates into ultra-fast offloading and file transfers.
Certified V30 for high sustained write performance, the Catalyst microSD cards can handle 4K RAW video capture flawlessly without dropping a single frame. A2-rated, the Catalyst microSD cards bring outstanding app performance and storage expansion to your smartphones, gadgets and game consoles.
Series highlights:
Top-of-the-line UHS-I performance
V30-rated for reliable video performance
A2-rated for high application performance
Ideal for 4K UHD video capture
Generous five-year warranty