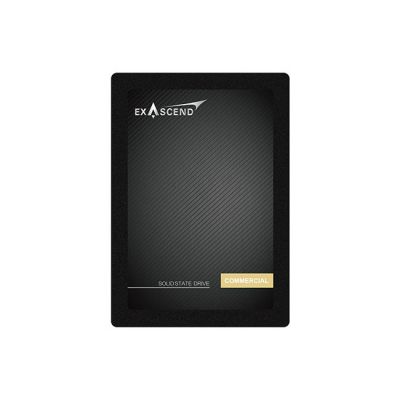 Exascend SC3 Series 2.5" SATA 4TB Drive
by Exascend MFG# EXA-EXSC3A004TB
Exascend SC3 Series 2.5" SATA 4TB Drive
The SC3 series features high-density 3D TLC flash with capacities up to 4 TB alongside performance-enhancing technologies that make it a great choice for business applications.
The SC3 series is optimized for commercial applications, guaranteeing cost-effective high performance.
Utilizing high-performing and high-density 3D TLC, the SC3 series is available in high-capacity configurations.
Featuring firmware and hardware technologies that enhance stability and reliability, the SC3 series is a dependable choice even in the long run.
Thanks to Exascend's advanced flash management and global wear leveling algorithm, the SC3 series offers extended device life.
Exascend's SC3 series is a commercial-grade product line featuring 3D TLC flash and high-speed SATA-III interface. The combination of high-density 3D TLC and Exascend's exclusive technologies means that the SC3 series can provide high capacities, excellent performance, and unwavering stability.
Series highlights:
High-density 3D TLC and available in high-capacity configurations
High I/O and throughput performance
Exascend's stability and performance-enhancing technologies
Advanced technologies 
Afterburnerâ"¢ is a performance-enhancing Exascend technology that leverages SLC cache to boost sequential read and write speeds in storage devices with 3D TLC NAND.
Exascend leverages firmware encryption with tamper-proof cryptographic signatures. This eliminates the risk of malicious firmware tampering that may otherwise compromise the very heart of the storage device.
Data Retention Plusâ"¢ dynamically refreshes data stored on the Exascend storage device based on usage patterns. This facilitates even drive wear leveling and strengthens data retention.
Our SSDs' compliance with the TCG Opal 2.0 specifications protects user data from unauthorized access with features such as hardware encryption and LBA-based read/write permissions while guaranteeing industry-wide device interoperability.
Exascend's secure storage solutions offer the highest level of data protection with virtually unbreakable AES-256 encryption, guaranteeing unbeatable encryption compliant with federal agencies' stringent data security requirements.
The SC3 series also supports multi-image firmware backup, RAID ECC, and other advanced Exascend technologies.