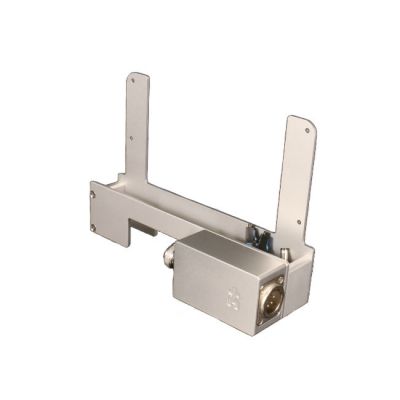 FieldCast Adapter One Plus (Adapter from FieldCast 2Core SM to ATEM Camera Converter with 4 pin XLR Connector)
by FieldCast MFG# FC-br005
FieldCast Adapter One Plus (Adapter from FieldCast 2Core SM to ATEM Camera Converter with 4 pin XLR Connector)
Connect your battery to Camera Converter
Adapter One Plus is identical to Adapter One, except for the extra four pin XLR chassis connector; now you can tap into an external battery and get a more robust and safe connection to your power supply. 
Adapter One Plus connects the FieldCast™ Cable straight to Blackmagic Design's famous ATEM Camera Converter™, and completely and effectively protects the vulnerable fiber optic LC connections to the SFP of Camera Converter™.
Robust fiber optic connectivity made easy
Adapter One Plus brings all advantages of Adapter One, and adds a four pin XLR chassis connector for tapping in your power supply or battery. Now you can go into the field with an extra battery pack to feed your Camera Converter or recharge its battery with power supplies that use standard XLR connectors! If you want to be sure that your Camera Converter has a tight, standard, low cost, available connection to external battery or power supply, go for Adapter One Plus. And if you want to keep your costs down maximally, substitute the laptop connector on your Camera Converter power supply for a female four pin XLR connector, and you can continue to use it. 
Features
The adapter features a FieldCast 2Core Chassis Connector, so you can connect the FieldCast 2Core SM (single mode) Main Cable to Blackmagic Design ATEM Camera Converter, fast and easy. 
Also features a Neutrik four pin XLR chassis connector, so you can connect an external battery pack to Camera Converter by simply using a standard adapter cable with XLR four pin female cable connector. 
Taps into the power connector of Camera Converter using a 90 degree power plug. This does not change the functionality of the unit. 
Robust all aluminium solution, built around a milled out block completely covering and protecting the vulnerable LC connections to the SFP of Camera Converter.
Mounts to the back of Camera Converter using the four taps of its housing; no customizing, no drilling, no glueing whatsoever. 
Specifications
rugged milled out aluminum case, glass blasted and anodized
color coded and FieldCast 2Core SM Chassis Connector with D-size flange
custom FieldCast ultra short bend insensitive patching cable inside
standard single mode 9/125 fiber optic technology
standard PC polished LC Duplex connections to SFP
Neutrik NC4MD-LX 4-pin XLR chassis connector for external power supply
90 degree 5.5mm. OD x 2.5mm. ID power plug for connecting to unit
countersunk M3 20mm. mounting screws for connection to Camera Converter
dimensions: 200(L) x 133 (B) x 62 (H) mm.