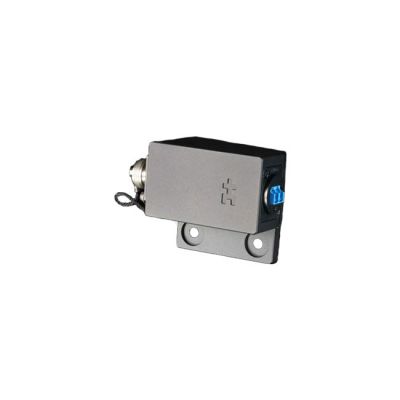 FieldCast Adapter Two (Adapter from FieldCast 2Core SM to Blackmagic Studio Camera or Panasonic AW-UE150)
by FieldCast MFG# FC-br004
FieldCast Adapter Two (Adapter from FieldCast 2Core SM to Blackmagic Studio Camera or Panasonic AW-UE150)
The fiber bridge for Studio Camera
Adapter Two bridges the gap between FieldCast™ fiber optic cable assemblies and Blackmagic Design Studio Camera™. It directly mounts to the side of the camera body and connects to the camera SFP with a short and flexible black LC Duplex bridging cable. 
With Adapter Two you can transport your HD or 4K video back and forth and control all functions of your Studio Camera™ using only one slim and flexible FieldCast 2Core cable, whatever the distance! 
Complete camera control over just one fiber optic cable
If you want to move your Studio Camera freely over the studio floor and make use
of all the advantages of ATEM camera  control, you will have to use two independent
SDI connections for every single camera to make it all happen. Of course you can
do it with two rigid copper coax cables, but you also can contemplate to go for FieldCast
2Core and have one slim and flexible cable for every camera. Connect Adapter Two to your Studio Camera, and you have the most robust fiber optic connection possible, more robust even than the good old BNC connectors on your copper cable. Moreover, even with 4K video, you can go any distance you want and use the same Studio Cameras in the field without worries. Adapter Two is a fully passive device, bridging fiber to fiber in the most straightforward way possible, no special tricks. Just keep the connections clean and go.
Features
The adapter features a FieldCast 2Core Chassis Connector, so you can connect the FieldCast 2Core SM (single mode) Main Cable straight to Blackmagic Studio Camera or Blackmagic Studio Camera 4K. 
Single mode fiber optic technology, creating extremely high bandwidth for error free transport of 4K data and beyond, at any cable length. 
Mounts to the camera body using a special mounting plate and screws tapping into two of the 1/4" inserts at the right side of the camera body. 
Connects to Blackmagic Studio Camera using a separate LC Duplex bridging cable, completely eliminating any strain or torsion at the level of the vulnerable SAFP connector. Â 
All aluminium solution, built around a milled out block containing both connectors, anodized matte black finish, perfectly matching camera body surface. 
Adjustable belt clip included, for connecting the adapter straight to belt or pocket. 
Integrated universal 1/4' 20 UNC insert for mounting to tripod, rig or arm.
Specifications
milled out aluminum case, glass blasted and anodized
color coded and FieldCast 2Core SM Chassis Connector with D-size flange
custom FieldCast ultra short bend insensitive patching cable inside
Senko LC Duplex connection with internal dust caps
30 cm. black LC Duplex patch cable for connecting to camera SFP
high bandwidth single mode 9/125 fiber technology
2 pairs of 1/4" screws for mounting with or without camera sunshade
dimensions adapter: 93 (L) x 45 (B) x 33 (H) mm.
weight including mounting plate 270 grams
belt clip, hex keys and instruction manual included