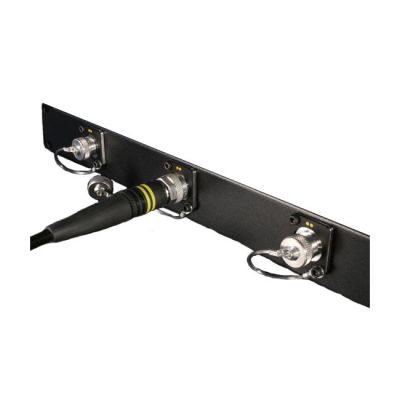 FieldCast Panel One (Panel with 4x FieldCast 2Core SM Chassis Connectors)
by FieldCast MFG# FC-br003
FieldCast Panel One (Panel with 4x FieldCast 2Core SM Chassis Connectors)
The fiber hub for Studio Converter
FieldCast Panel is a 19" 1RU panel, equipped with four FieldCast 2Core SM Chassis Connectors, ideal for using FieldCast cable in conjunction with Blackmagic Design Studio Converter. 
All four Chassis Connectors have a 50 cm. outlet at the back, with LC Duplex connector at the end, matching the four LC SFPs at the back of the converter unit. You only have to mount the panel and plug them in to be able to go FieldCast!
Mount it, plug it in and be ready to go fiber the proper way
FieldCast Panel is just to make it easy for you to start using FieldCast. We took four standard FieldCast 2Core SM Chassis Connectors and a nice black 19inch panel, and simply screwed the parts together, as an example of how to use the Chassis Connectors in environments where 19" racks and flight cases are implemented. Of course you can use your own panels, put six or eight connectors in a row or mix and match with other D-size connectors, and get the combination that perfectly suits your needs. Still, the panel is popular and sells better than we expected, and we decided to keep it in our portfolio and treat it as one of our key FieldCast products! FieldCast Panel, with its 50 cm. long outlets, can be mounted anywhere near Studio Converter or Talkback Converter 4K, or for that matter any other device using LC single mode connectivity. And if the outlets are too short you can use low cost LC adapter and patch cable to go any length. 
Features
Robust 19" rack mount panel, steel with black finish, 1RU in height, to be mounted directly above or beneath Blackmagic Design Studio Converter™. 
Features four FieldCastâ"¢ 2Core SM Chassis Connectors: now you can easily connect four FieldCast 2Core SM Main Cables straight to Blackmagic Design ATEM Studio Converter, and without any risk or any hassle!
 FieldCast 2Core Chassis Connectors come with 50 cm. integrated bend insensitive LC Duplex patch cables that connect seamlessly to the SFPs Studio Converter. 
FieldCast color coding on all four connectors for easy identification. 
Does not change anything to the functionality of Studio Converter, but simply is a safe and sound bridge from the vulnerable LC connections to the robust FieldCast connections: now it's safe and simple to go fiber!
Specifications
1.8mm. steel panel with rounded edges and black paint finish
four D-size (24 mm.) cutouts
horizontal punch spacing 105 mm.
four FieldCast 2Core Chassis Connectors SM (single mode)
50 cm. patch cable outlets with LC Duplex connectors
bend insensitive cable quality for easy routing to Studio Converter