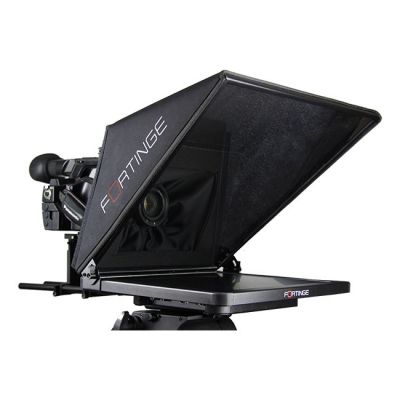 Fortinge 17'' Studio Prompter Set with HDMI, VGA, BNC Input (High Brightness)
by Fortinge MFG# FORT-PX-08
Fortinge 17'' Studio Prompter Set with HDMI, VGA, BNC Input (High Brightness)
This studio prompter series welcome you with the brand new ergonomic design!
Now it is more Professional in use with the wide angle ultra-clear glass and curved corners with a thinner frame. Balancing is not an issue anymore as it is balanced automatically, no need for extra weights!
The set up is still toolless, the menu keeps its user friendly feature and comes with 'flip mirror' feature as standard that provides the reverse view automatically. The foldable hood has 45 and/or 50 angle options, the
holes for vesa mount is added to the back cover. The PROX Series Studio Teleprompter support mini ENG & shoulder type ENG cameras up to 10 kg. Excellent value for Money!
INCLUDED IN THE PACKAGE
LCD Prompter Monitor
Teleprompter Hood
70/30 Teleprompter Glass
Forprompt Studio Prompter Software
Professional Quick Release Plate
Mechanical Construction
User Manual
Hardware Warranty (1 Year)