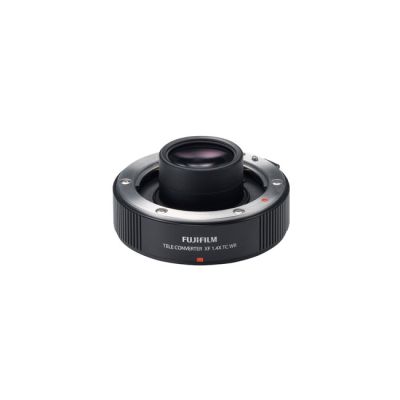 Fujifilm XF 1.4x TC WR Teleconverter
by Fujifilm MFG# FUJIFILM-16481892
Fujifilm XF 1.4x TC WR Teleconverter
Detail-packed results, with minimal lens aberrations at just one additional stop of stop-loss.
Focus performance remains unaffected
Weather-resistant design repels dust, moisture and low-temperatures
Weights just 4.5oz (130g)
Focal Length: 1.4x
FUJINON XF1.4X TC WR is a high-quality teleconverter that provides a 1.4x magnification when paired with a compatible lens. This is perfect for extending the reach of an existing telephoto lens without sacrificing image quality or affecting autofocus performance. The teleconverter is constructed from seven elements in three groups to ensure that optical performance is maintained, while only adding one-step of stop-loss to the lens's overall aperture value. It also weather-resistant and will extend those capabilities with other compatible, weather-resistant XF lenses. XF1.4XTC WR is compatible with XF100-400mmF4.5-5.6 R LM OIS WR, XF50-140mmF2.8 R LM OIS WR, and XF80mmF2.8 R LM OIS WR Macro.
Some teleconverters can degrade image quality, but thats not the case with the XF1.4X TC WR converter. It has been designed using the same exacting optical standards as the original lenses, so you'll get superb detail-packed results, with minimal lens aberrations at just one additional stop of stop-loss.
The converter is mounted between the lens and the camera body, retaining full functionality with both autoexposure and autofocusing. Impressively, the focus performance remains unaffected by the converter, so focus will be just as accurate as it would be with the lens on its own.
4X TC WR has been designed to withstand harsh conditions, with rubber seals to repel dust, moisture and low-temperatures.
At just 4.5oz (130g), XF1.4X TC wont add any substantial weight to your camera bag, so it'll always be worth taking along with you on any assignment.