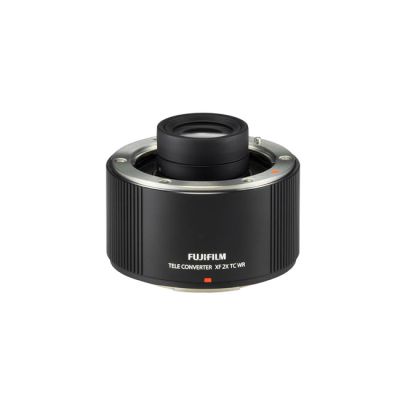 Fujifilm XF 2x TC WR Teleconverter for Select Lenses
by Fujifilm MFG# FUJIFILM-16516271
Fujifilm XF 2x TC WR Teleconverter for Select Lenses
Designed to provide superb, detail-packed results, with minimal lens aberrations at just two stops of stop-loss
Focus will be just as accurate as it would be compared to just the lens on its own
Constructed using weather-resistant rubber seals to repel dust, moisture and low-temperatures.
At just under 6.0oz (170g), XF2X TC is compact and lightweight
Focal Length: 2x
Achieve 2x magnification to significantly extend the reach of compatible XF lenses with FUJINON XF2X TC WR teleconverter. Its outstanding, weather-resistant construction and durability provide outstanding optic performance and autofocus functionality, making for consistently stunning results. Consisting of nine elements in five groups for maximum optical performance, this teleconverter adds only two stops of stop-loss making it a great option when your camera bag needs to be lighter, but you need the extra option just in case. XF2XTC WR is compatible with XF100-400mmF4.5-5.6 R LM OIS WR, XF50-140mmF2.8 R LM OIS WR, and XF80mmF2.8 R LM OIS WR Macro.
Designed using the same exacting optical standards as its compatible XF lenses, XF2X TC WR is designed to provide superb, detail-packed results, with minimal lens aberrations at just two stops of stop-loss.
Since the converter is mounted between the lens and the camera body, full functionality with both autoexposure and autofocusing are retained with the camera body. Impressively, the overall focus performance also remains unaffected by the converter, so focus will be just as accurate as it would be compared to just the lens on its own.
This 2x teleconverter is constructed using weather-resistant rubber seals to repel dust, moisture and low-temperatures, making it resistant to adverse weather conditions.
At just under 6.0oz (170g), XF2X TC is compact and lightweight so it wont add any substantial weight to your camera bag when you need the extra options but cant carry the extra weight.